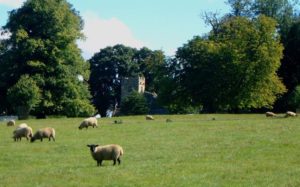 Salperton is a very beautiful estate village with a population of about 60. There are 33 traditional houses and cottages, some Grade 2 listed, 5 being for estate employees and the rest rented. The landed estate covers about 2,000 acres of mainly arable farm land, with some sheep grazing in Salperton Park and a commercial shoot. A British Eventing Horse Trial is held every year in the park.
All Saints Church lies next to Salperton Park House away from the village and is the only public building. The oldest part of the church is the chancel with a Norman arch dating back to 1120. The congregation relies on a number of regular worshippers, with an age range from 15 to 75, who live outside the village. Some come from the neighbouring parish of Shipton.
Please contact the Church Office if you wish to give to All Saints' Church.
colnriver@btconnect.com