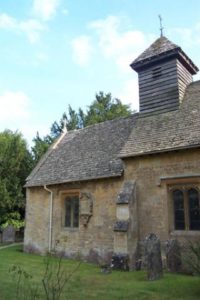 There is evidence of a church and manor house having existed at Whittington since before the Norman Conquest.  There are several indications that today's church is of early Norman origin, and it is not unlikely that at one time its narrow South Aisle and Norman Arch formed part of the chapel of a much older fortified which stood on the site of the present Whittington Court.
Inside St Bartholomew's Church the visitor will find fascinating memorials to some of the ancient patrons of Whittington's Christian community including recumbent effigies of two knights in full armour thought to represent Richard de Crupes (d. 1278) and his son, also Richard, who were Lords of the Manor of Whittington.
St Bartholomew's Day (Aug 24th) in 1662 was set as the date for the adoption of the Book of Common Prayer in all churches in England.  Whether this is the reason for the church's dedication to St Bartholomew is unknown, but, remaining faithful to this heritage, the Prayer Book is regularly used at services in this church.
Whittington Church has its' own web site with more information about the Church at: www.whittington-church.co.uk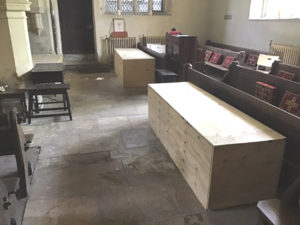 For information about the church, please contact the church warden Charlie Llewellen Palmer charlie.palmer@ifacompliance.eu Colgate Farm, Ham Road, Cheltenham GL54 4EZ
If you would like to donate, cheques can be sent to the above address payable to Whittington PCC.
Or the church bank account is
30 91 87
00490676
Lloyds Cheltenham
"PCC WHITTINGTON"
There is also information about giving on our church website:-
www.whittington-church.co.uk/contact
If you pay income tax please also copy and paste the statement below into an email to Charlie Llewellen Palmer so we can claim back the gift aid.
"I wish gift aid to apply to the attached donation and I confirm I will pay in this tax year an amount of income tax or CGT at least equal to the amount that all charities, including churches, and community amateur sports clubs will reclaim against my gifts to them this year. I understand that other taxes such as council tax and VAT do not qualify."