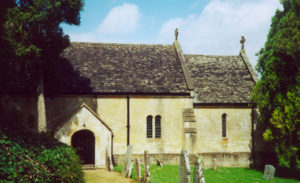 Nestling in the hills above Winchcombe, Charlton Abbots derives its name from its historic connection with the Abbots of Winchcombe.  The church's isolated position made it an ideal site for the monks to establish a walled-in leper colony.
St Martin's Church still retains some elements of the original 13th century building which was extensively restored during the 18th century.  The church's single bell, which is still used to call worshippers to services, was founded in 1346 by 'John of Gloucester'.
If you attempt the steep, and sometimes treacherous, path, you will be rewarded by the unforgettable sight of a peaceful, welcoming, tiny church, in an idyllic setting of fields, farms and hills.
As part of the united parish of Sevenhampton with Charlton Abbots,  St Martin's Church stands as a centre of prayer and worship for the people of the surrounding area.
If you would like to give to St Martin's here are our bank details:-
Account:  PCC of Sevenhampton with Charlton Abbotts
Bank:  Lloyds (130 High St, Cheltenham GL50 1EW)
Sort:  30-91-87
Account:  00500620
You can also give by using the QR code on the link below.