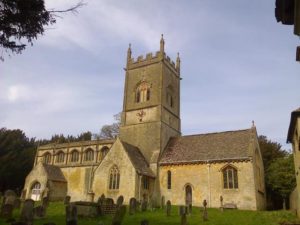 Please note this church is temporarily closed for public visits outside of normal service times.
The parish includes the village of Withington, and the smaller village of Foxcote on the Andoversford border, with a combined population of about 600.
The Grade 1 listed Norman church of St Michael's, the largest in the benefice, is carefully and lovingly maintained.
As well as regular worship by the local congregation. The Church is used weekly by the local school when Church members act out Bible stories. It is also used for piano lessons and for exhibiting work done by children at the school. It is the largest capacity building in the village and in the benefice and has been used for special concerts, as well as being a popular venue for weddings. It has also hosted village events and a few years ago was wonderfully decorated for a village flower festival. Finally the church gets a good number of visitors keen to see various aspects of its history.
In recent years the Vestry roof has been restored and new under-pew heating installed. The latter was achieved thanks to a very generous grant of £45,000 from the Axel and Margaret Ax:son Johnson Foundation. The foundation has established a research centre at Manor Hall in the village. For more information about their work see 
http://axsonjohnsonfoundation.org/eng/
To read about the history of Withington Church visit:
http://www.britainexpress.com/counties/glouces/churches/Withington.htm
Giving to St Michael and All Angels, Withington
Most banks will allow you to make an electronic gift direct from your account to the church's account. If you wish to do this, please use the following details. If you are giving by cheque, please make it payable to Withington PCC.
Our bank details are as follows:
• Account Name: Withington Parochial Church Council
• Account no: 80200476
• Sort Code: 20-84-58
Please use your initial and your surname as a reference so we can identify your payment.
If you are a UK tax-payer and haven't already filled out a gift-aid form, please help us make the most of your gift by asking our Church Office for a Gift Aid Declaration form. This will increase the value of your gift by 25%.
Please email colnriver@btconnect.com